How Mentorship from Exprto helps you?
Preparing for NEET | IIT-JEE can be tough and we know students require guidance at every step.
1 To 1 Session With Topper
Super Mentor
Test Series By Topper
Ask Me Anything
Students Community
Group Sessions
Topper Handwritten Notes
---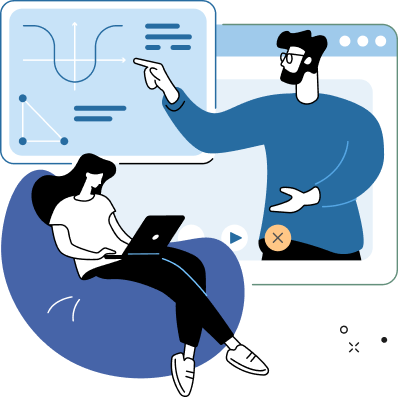 1 To 1 Session With Topper
No two aspirants are the same, and that's why our mentorship is tailored to cater to your individual needs.
This will help you Stay motivated during the challenging preparation journey of your dream exam.
With personalized guidance and mentorship, you'll gain the confidence needed to face.
Super Mentor
Is an experienced mentor with 3+ years of mentorship experience will be assigned to you.
Is a mentor who has more than 200+ hours of mentorship experience and help you in your preparation.
Will assign tasks in 3 forms (Chapters, Test series & sessions) according to your schedule and preparation speed.
Test Series By Topper
Get access to the topper's selected test series and test tracking strategies from the toppers.
Discuss test questions & patterns with the toppers with top 500 rankers as personalised sessions.
Test series sessions with mentors = your journey's edge. Tackle top-performer's test series with mentors.
Ask Me Anything
AI driven chat bot for 24*7 resolution of the student's problems. which will stay as a constant companion for you.
Ask any problem be it a difficult question or personal problem you will get an immediate response.
Generative AI based which will give unique resolution every time you ask a new problem.
Students Community
Get access to the toppers and student's community where mentors guide in another way via replying to the student's posts.
Mentors and students share their experiences on their preparation journey and students relate with it.
One stop solution for all the generic problems related to the preparation of IIT | NEET
Group Sessions
Interactive Learning: Join interactive group sessions where mentors address individual student questions, fostering active participation and deeper understanding.
Diverse Perspectives: Benefit from mentors navigating various questions, offering nuanced solutions for a well-rounded learning experience.
Efficiency in Learning: Accelerate learning by absorbing insights from mentors and peers, making the process faster and more effective.
Topper Handwritten Notes
Topper's handwritten notes offer a concise, comprehensive alternative to lengthy textbooks, saving time while enhancing exam readiness and understanding.
Maximize study efficiency with these notes, allowing for more time dedicated to test series and self-assessment, ultimately boosting exam performance.
Utilize topper's notes as a game-changing strategy for your exams. Their effectiveness in streamlining preparation and emphasizing self-evaluation can significantly impact your results.
How Mentorship Can Boost Your Preparation
Mentorship from IIT and NEET experts offers personalized support in tackling tough subjects and exam strategies.
Mentors customize study plans based on individual strengths and weaknesses, ensuring efficient and focused prep.
Mentorship inspires motivation and responsibility, urging students to meet goals and enhance performance.
Mentors grant access to unique study materials, practice tests, and timely feedback, arming students for success in these competitive exams.
Expert Help for IIT-JEE & NEET: Learn from the best at Exprto's Mentorship Program. Quick insights made simple!
10+ Years of Mentorship Program Expertise
Score Improvement Guarantee*
Customized Prep Journeys are guaranteed to improve scores. Choose what fits you! They all guarantee results
Quality Content & Delivery
Exprto's MentorShip Program Review Edge. International content designed scientifically and delivered through a mentally stimulating Socratic pedagogy and proprietary strategies
Expert Instructors
Exprto's MentorShip Program Review Trainer Certification is an industry benchmark for trainer certification. 100% of Exprto's trainers are Princeton Review Certified and have the top scores in the actual test
Resources Selection
Our team of expert mentors have the expertise of selecting the best in class resources and which takes less time to prepare and more time to revise.
Frequently Asked Questions
What is Exprto?
Exprto is India's first and the only platform which allows Students who are currently preparing for competitive exams like IIT – JEE and NEET – UG interact directly on call with the recent years toppers. The aspirants can ask all of their questions about right preparation strategy, board exams, paper attempt approach, reference books and study material, coaching, exam stress handling, etc. directly from the toppers.
What services do Exprto provide to IIT-JEE and NEET aspirants?
Exprto provides a platform where students can find a ranker of their choice and can have a direct conversation with them on call. The date and time of the call can be selected by the student from the list of available booking slots for each topper listed on the platform.
How can a student sign-up on Exprto?
You can click on the sign-up button given at the top right of the website and fill in the basic details mentioned in the sign up form. Once you verify the phone number, you will be registered as a user on the platform and you can book your call with any of the available toppers.
What is the use of Profile of Rankers on Exprto?
The Ranker Profile helps you find out the most suitable JEE/NEET Ranker for you. The profile mentions details like languages spoken by the ranker, AIR, their JEE/NEET scores, Strong & Weak subjects during preparation, etc. This can be used by the student to identify the rankers with whom they relate the most and can have a free and frank discussion about their problems, strategy, improvements, etc. Exprto recommends users to go through the complete profile of any ranker and choose them on the basis of relevance and not just on the basis of AIR.
Are you associated with any coaching institute?
No. Exprto is not associated with any of the coaching institutes. We also do not have any partners or branches anywhere else other than Gurgaon(India).
I am not able to book my preferred slots for calling a Ranker?
This may happen for a variety of reasons such as poor internet connectivity, transaction failure at the bank, unavailability of slots, etc. For all such issues, please write to us at info@exprto.com stating the exact nature of your issue and our team will contact you within 24 hours to resolve any problems you may have.